Kathryn's Hols- Day 7 - Wawona (Yosemite) for Giant Sequoias
We didn't bother with an early start but had a casual breakfast at the Wawona Hotel somewhat disturbed by the workman under the building drilling and banging so much so you could feel it. Unsurprisingly as we left we found them taking a break. Work like that must only be fun when you are jarring people who have paid a fortune for a hotel room as they eat their expensive breakfast. I recommend camping around here, the local shop is very geared up to supporting camping and even sells coffee!
Glad to see the back of that place we headed toward Mariposa Grove to see the largest living thing on earth (by volume), the amazing sequoias. Again, this place is amazingly accessible and you can see most of the big trees by car if you want to. We took the less obvious route and walked, away from the people. The trees are very impressive and some nearly 3,000 years old.
They survived early gold rush logging because the wood wasnt great and it didnt burn that well. Lucky that. In fact the sequoias are trees that really need fire to survive as the cones need to drop on clear soil. The re-growth of other trees at Yosemite has not helped the Sequoias and not only that, they new trees are a significant fire risk. That's why we drove through fires yesterday - the rangers have lots of management fires at this time of year.
My camera failed but this pic from the web gives the idea...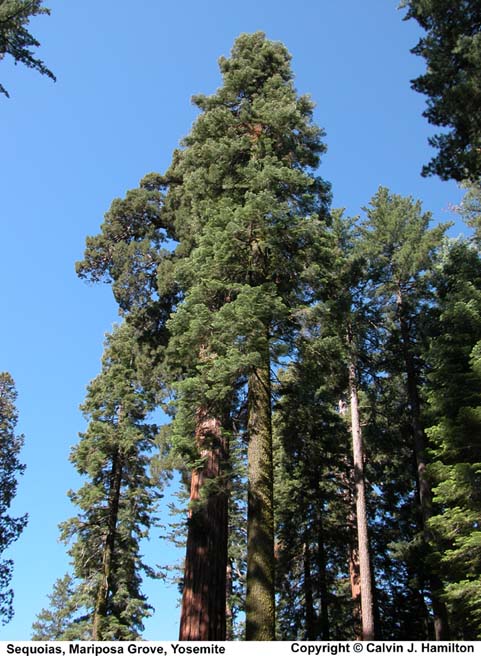 The trees are really huge and don't decay real quick either. We saw this tree, called, The Fallen Monach looking much as it did when the photo below was taken in 1899. This shows about 40 members of the US 6th Cavalry Troop F mounted on or around the tree.
After a longer walk than we expected we headed north towards The Blackberry Inn, a really nice B&B. As we were getting settled in we found our excellent room well stocked with books by
Ann Marie Brown
. Kathryn wondered if it was her B&B and indeed, the next morning we discovered out host was the author of our Yosemite Moon Guide and a bunch of other recent books. We ate local that night which was an amusing roadside diner thing with pleasant but slightly odd service and ok food. There are other places to eat near here but we were a bit pooped and didnt want to drive (and a beer sounded appealing). The walk along the road to the diner was a bit more pitch black than we had expected, the darkness of course filled with wild animals.